Rotary Youth Leadership Awards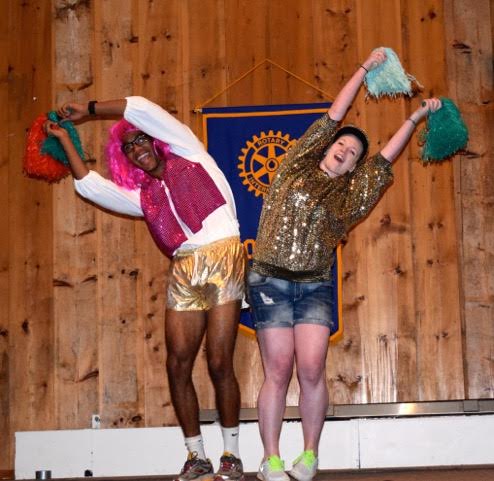 RYLA, or, The Rotary Youth Leadership Awards camp is a six-day summer leadership program sponsored by Rotary International. The RYLA camp for District 5110 consists of 144 high school students who are supervised and taught by 24 college counselors; four professional facilitators and half-a-dozen Rotarians. During camp, which is held the third full week in June (June 20-25, 2016), students learn about leadership, organization, teamwork, friendship, and how to collaborate to deliver "pitches" or polished presentations relating to community projects. Some of the many opportunities for FUN include: engaging in outdoor challenge activities like zip-lining; spending free-time playing games; climbing a rock wall; hanging out at the swimming hole; as well as singing and putting on skits at nightly shows and campfires.
Rotary District 5110 invites students who are in their sophomore year of high school to apply, that way students can then return to their schools and apply newly-learned leadership skills during their junior and senior years. Students are not required to have leadership experience in order to apply though all students must receive recommendations from their teachers or school administrators, and be selected for participation by Rotarians. During camp, students gain increased awareness of other ways they might participate in other Rotary-sponsored programs such as Interact Club, Rotoract, or Youth Exchanges to other countries. Many Rotary Clubs fund one or two students; others sponsor even more. Clubs raise $550 per slot to send students to RYLA; there is zero cost to families. Students agree to make presentations about their experiences to their sponsoring Rotary Clubs after camp, and to speak to other students who may be interested in attending RYLA in the future.

For more information, visit http://www.district5110.org/?page_id=35614 or contact your high school counseling office or Rotary Club. Each Rotary Club determines their interview dates to meet the District deadline, which May 2 for 2016.
Rotary Contacts:
Renée Riley-Adams (541) 864-9932; renee@balancedlifecoaching.biz (Rotary Club of Ashland)
Zeph Robertson (541) 646-5796; zeph@harfstassoc.com (Rotary Club of Ashland Lithia Springs)
Mary Hoskins (541) 531-8538); marhos1968@gmail.com (Rotary District 5110 Chair/Camp Director)