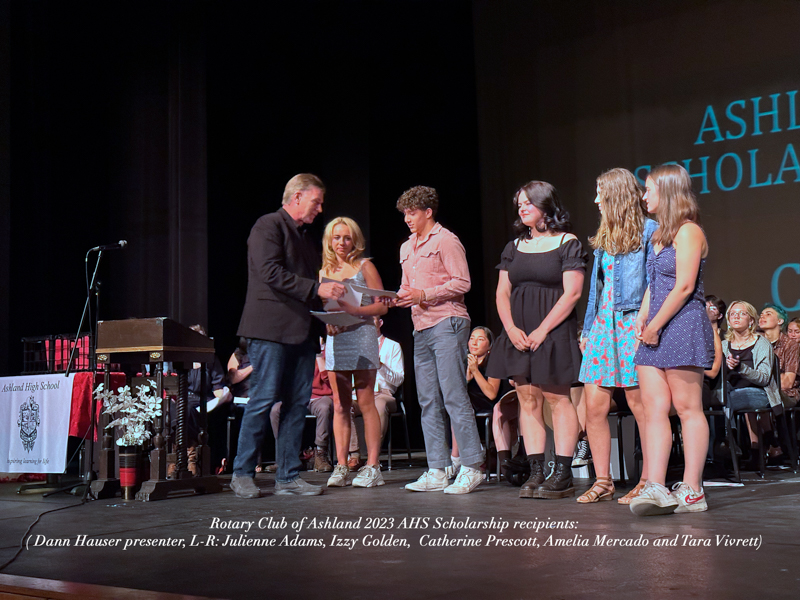 Ashland Rotary Foundation Scholarship Winners for 2023

The Ashland Rotary Foundation was established in 1971 to provide scholarships for Ashland High School. Scholarships for Southern Oregon University began in 2006. Member donations over 52 years have built the ARF corpus to $1.47 million. This year ARF is awarding $76,000, in 19 scholarships of $4,000 each. There are 5 new AHS students, 7 2nd-year renewals of AHS scholarships, and 5 SOU students and 2 renewals. There were 57 applicants from AHS this year.
AHS students: Catherine Prescott, Julienne Adams, Tara Vivrett, Amelia Mercado, Izzy Golden
Class of 2022 AHS Renewals: Luke Seally, Mirandah Davis-Powell, Grace Yaconelli, Eva Mitchell-Vargas, Mina Schepmann, Patrick Allan Latham, Kaia O'Neill.

2023 Southern Oregon University Scholarship Recipients: Nikita Bazarsky, Tiana Gilliland, William James, Sebastian Cantero, Jenn Hall.
2023 Southern Oregon University Scholarship Renewals: Chloe Fiveash, Brian Sirdoreas.
Ongoing community service projects supported by the club are included in the ARF annual budget.
There are typically funds available for community service projects that are unallocated to any ongoing community service project. The amount of those funds varies annually depending on the Rotary club's sergeant-at-arms donations each year.

Thanks to the vision of its founders, today the Ashland Rotary Foundation has a long history of giving.
It's not hard to believe this tradition will continue and only grow and serve more of the club and community needs.
Board of Directors: Joan McBee, David Kanner, Lisa Dunagan, James Kolker, Susan Hearn, Neil Governor, and Board President: Dann Hauser
Not pictured: Alan Harper and Lisa Molnar.
The Ashland Rotary Foundation (ARF) is an organization whose members
are also members of the Rotary Club of Ashland.
Join us in our work:
contributions to ARF from the public are tax deductible,
always welcome and encouraged!
Contact our club:
Rotary Club of Ashland
P.O. Box 5110
Ashland, OR 97520
Club Secretary: Pam Norton at 541-708-6280