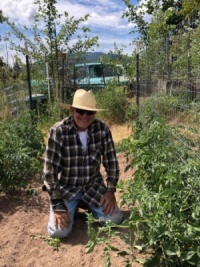 Rotary is about service above self. The Ashland Rotary Club, like most clubs, comes together to serve both our local community and the international community. Our Club finds ways to go beyond supporting community projects and needs, we like to get our hands dirty. One critical issue in Ashland is hunger and food scarcity. Our Club works in partnership with the Ashland Emergency Food Bank (ashlandefb.org) to help support local families. Our goal is to support local families with healthy produce during the growing season.
In 2009, a long-time Rotarian Ned Schaff and his wife Stella gave us the opportunity to create a Rotary Garden. They continue to provide the Club with a quarter-acre of their amazingly fertile soil, so we could grow: peas, beans, onions, potatoes, beets, kale, spinach, radishes, tomatoes, carrots zucchini, squash and of course, pumpkins. There is a small budget for expenses like fencing and irrigation lines. By virtue of the hundreds of volunteer hours we are able to deliver thousands of pounds of fresh food to community members. It's an easy and fun way to come together as Rotarians and serve our community; and a few hours of volunteering reap tremendous rewards.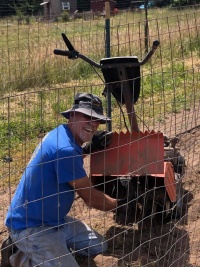 In 2015, Mark Jaffe and fellow Rotarians were instrumental in using the entire quarter acre to its full potential. This was the first year our yield grew from an estimated 2,000 pounds to 7,000 pounds. We have had an average yield of 4,233 pounds with an average of 530 volunteer hours a year.
In 2018-19, the Rotary Club of Ashland received a District 5110 grant to work on infrastructure at the garden. A new drip irrigation system, along with a holding tank and filtered pump were added to increase the reliability of the watering system, and to conserve water. The fence was also strengthened and improved.
In terms of yield, in 2018 we had 4500 pounds of food and 545 volunteer hours.
Where: 175 Neil Creek Road (right off of Green Springs Hwy 66) Click here for map
When: Usually Saturdays from 9 to 11 during the season.
Contact: Juli Di Chiro - julidichiro@gmail.com