Student Of The Month
The Student-of-the-Month (SOTM) Committee has the privilege to work with Ashland High School administration to identify and honor one student each month of the school year as Rotary's SOTM. During each 4th Thursday regular meeting, time is designated to honor our SOTM. Criteria for selection are based on Rotary's Four Way test which values Truth, Fairness, Goodwill and Beneficence to all. School staff introduce the student and read feedback from the student's teachers that exemplifies why the student has been chosen. Committee staff present a certificate to the student who is then encouraged to briefly speak to gathered Rotarians and guests. The committee will then work to submit a press release to local newspapers about the honored student.


The Student of the Month for May, introduced by Athletic Director Patrick Grady, is
Te Maia Wiki, class of 2023.
Te Maia told us she comes from the Yurok people of Northern California, with strong traditions of community and land stewardship. She thinks it is important to incorporate community service in education, and that community engagement is transformational. She plans to study environmental science at Yale.
Here's what some of her teachers have to say about her:

Quinn Haldane: Te Maia has been an inspiration to have as part of my class and part of the DECA team. Te Maia's accomplishments are awe-inspiring and infectious. I believe she can and will change the world for the better.

Liz Fletcher: To know Te Maia is to really experience hope. I don't think many folks interact with her without feeling transformed by her sense of hope and purpose. Here's a snippet of my rec letter for her, which includes just a small fraction of her many accomplishments:
Te Maia was raised with the cultural value of taking care of wh

?

nau; this translates to family in Te Reo Maori, and it also means interconnectedness or community. Te Maia does so much to foster community and belonging that I scarcely know where to begin describing how this shows up in her life, and the examples are numerous and rich. When I think of Ta Maia's sense of wh

?

nau, I often think of her journey as part of the Red Road to DC project. Te Maia joined this journey as a media intern, invited by a couple that she has known since middle school. This is but one example of both Te Maia's creativity and thoughtfulness, and her ability to build lasting relationships. Te Maia traveled on this journey and filmed the entire thing, meeting folks from all over the country and documenting, as she puts it, "minor miracles." Te Maia joined these folks in transporting a 25-foot totem pole -- hand-carved and painted by Native Americans -- to Washingtong, D.C., meeting the likes of Winona LaDuke and Deb Haaland. Te Maia described the totem pole as a vessel for the hopes of so many, a means of bringing people together to find hope, joy, and healing out of conversations about challenging topics. I think Te Maia's documentation of this amazing journey is also a vessel of hope: she describes how when she was videoing this journey, she was always aware of the potential exploitative nature of recording, and how she wanted her work to represent the life-giving spirit of this undertaking. Te Maia cultivates community wherever she goes, and she does so to collectively champion a better world.

Shane Abrams: Te Maia is one of the most compassionate, intelligent, and inclusive people I've met in my teaching career. I've said several times that we should expect amazing things from her, with the important caveat that she's already done really impressive and meaningful work in and for our community. Congratulations, Te Maia, and best wishes for your next chapter!

Jill Britt: Te Maia is an amazingly clear thinker and communicator. I don't think I've had another high school student who is so self-aware and confident in herself. She is kind, talented, and very intelligent. Her presence brings a sense of calm to people around her and uplifts the group as well as herself.


The Student of the Month for April, introduced by Superintendent Samuel Bogdanove, is Luke Hogan Laurenson, class of 2023.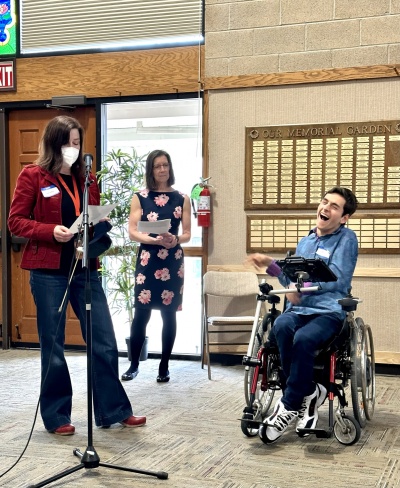 Introduction of Luke Laurenson, Rotary SOTM, by Tammy Anderson, AHS Math Teacher

Samuel's email for today's agenda said, and I quote, "Tammy introduces Luke and shares what teachers say about Luke (2-3 minutes, but you can go longer)." You do realize, I am accustomed to planning lessons that last 75-80 minutes, right? I could probably talk that long about Luke, because there are that many wonderful things to tell you. However, you already know how amazing Luke is; that's why you selected him as a Student of the Month! But you may not be fully aware of the extent of his amazingness, so let me share a few thoughts with you.

I first met Luke when his sister, Julia, was in my class. Julia was heavily involved in theater at AHS, so I would see Luke watching her in the audience or waiting for her in the lobby after a performance. When Luke caught sight of Julia on stage or in the theater lobby he would literally bounce with excitement and happiness. While he wasn't communicating in words I could clearly understand, he made it abundantly clear that he loved his sister. Theirs is a truly special relationship.

Shortly after Julia graduated, Luke entered AHS as a freshman. I didn't have Luke in class for his first two years of high school, even though I was teaching the same classes he was taking. I was beginning to think you were avoiding me Luke, until you appeared in my Algebra 2 class last year! Algebra 2 – a class where students are solving equations and manipulating graphs that involve exponential, quadratic, polynomial, logarithmic and trigonometric functions. It's a hard class, made exponentially (pardon the pun) harder for someone like Luke who has to communicate every step of every equation and every point of every graph to someone else who writes it down for him. It was SO hard, and SO time intensive, but Luke did it! Luke earned A's both semesters last year, but more than that, he had the highest overall percentage of all of the students in his class. Incredible! To attain this level of understanding, Luke went to the Student Tutor Center at least twice a week after school. There he befriended a tutor named Mina Schepmann. (I believe Mina was one of your Students of the Month last year.) Luke and Mina became a team, but more than that, they became fast friends. I reached out to Mina to ask him to share a few thoughts about Luke's impact on his life. Here is what he wrote:
.
"I think that Luke changed not only my perspective on the world but also on my own life. During my personal life at the time I first met him, I was focused on having no restrictions, trying to stretch the boundaries and breaking down barriers. Sometime later, I think I started to realize that I could be happy having rules and restrictions surrounding me, and they were often in my best interest. Spending time around Luke taught me this. His life could easily be surrounded with depression, sadness, and self-pity. But Luke has not succumbed to that, rather he makes his life the best it can be in every situation he is in. He doesn't just focus on himself, he brightens other people's days with his smile, his enthusiasm, and his loving personality. I know that I am a better person today because of Luke.

Every time we hang out, I learn something new from him. Whether this is in the form of a new Taylor Swift song, a witty joke, or a meaningful comment, I have never left Luke feeling like I did not benefit from interacting with him. He is an amazing person and role model, I hope everybody gets to develop a connection with him because I know that they will walk away being a better person for it." Mina Schepmann, AHS Class of 2022

During Spring Conferences last year, I asked Luke if he was planning to take another year of math. After all, as the top student in the class, he was clearly capable of doing Statistics or even Pre-Calculus. Luke responded with an emphatic, "Heck no!" I didn't take offense at his response because I knew math is not Luke's passion. In the following comments from various educators and friends of Luke, you get a taste of Luke's interests and passions.

Jannet Mickay, ASD Educational Assistant, a woman who has worked side by side with Luke for the past 13 years shared these insights about Luke:
"I think everyone who knows Luke would agree, to know Luke is to love him. He has an infectious laugh, and absolutely radiates joy and love. Nothing matches the excitement of his joyous greetings on a Monday morning! We all know Luke loves music, theater and dancing, but you may not know he has a very mischievous sense of humor. He really enjoys giving me a hard time in PE when he lifts more weight than I do, which is often!

Luke has always had a tremendous drive to succeed. From the time he was in kindergarten, he was a person who knew what he wanted and was always striving to achieve his goals. He wanted to win every jog-a-thon, cookie dough fundraiser, and classroom competition. He wanted to get straights A's and if he didn't do as well on a test as he'd hoped, he would ask to take it again.

Although he was a little hesitant to try new things in his younger years, Luke's confidence has grown by leaps and bounds. He has big plans for his future and I fully expect them to come to fruition. He has an incredible ability to manifest his dreams through hard work, determination and his will of steel. He has always cared deeply about his education, and especially the people involved in it. He expresses his thanks to everyone who helps him daily, especially his mama Jane, who has always been such a powerful advocate for him.

Luke is also very vocal about how magnificent his life is. His appreciation for everyone and everything in his life, even on the hard days, has taught me to have gratitude for everything in mine. It has been a profound blessing to be a part of Luke's journey this past 13 years and I can't wait to see what he does next!"

In all of these stories we hear that Luke dreams big and welcomes challenges. None of these accounts focuses on what Luke can't do, but rather what he has done and will do. Frankly, the list of things Luke can't do, if it even exists, is very short, and getting shorter as Luke achieves new heights every year and every day. It cannot go without saying that each of Luke's accomplishments requires at least twice the time and twice the effort as your "average" teenager. And they require a team of people rallying around Luke to support him. This only makes his achievements all the more remarkable.

Another common theme among the stories is the lessons we have all learned from Luke. Lessons about perseverance in the face of adversity, courage to take risks and step out of our comfort zone, loving and caring for the people in our lives. And for me personally, living each day, even those filled with hardship and challenges, with joy and enthusiasm. It truly has been a blessing to be part of your journey, Luke, and it is my honor and pleasure to introduce you to this group today as the April Rotary Student of the Month.

Betsy Bishop - Luke Laurenson has always loved performing, especially dancing. Ashlanders will remember him as SPIKE, one of the HS students in the Ensemble of HAIRSPRAY at the Oregon Shakespeare Festival in 2019. He has danced at AHS in Choir Night, Back to the Theatre Night and will also be dancing with Project Up (a Drama Service club) with drama club members in One Act Night. He is the president with Liam Hokama of Project Up, a Drama Service club. He is going to play FREDDIE in the production of CURTAINS, the Ashland High School spring comedy, May 12-21. Luke is an ambitious, steadfast and persevering soul. We all admire him.

Cambria Floren - Luke was in Mock Trial with me during Government last semester. He played the role of a defense attorney in our criminal trial. Luke did an OUTSTANDING job in the trial. He not only had his questions prepared, he had to cover for his partner who was absent on the day of the trial. When the witness testimony did not go the way he had planned, he quickly pivoted and wrote NEW questions during the trial. Luke even made an objection! I was so proud of him. Not only that, but he looked amazing in his suit!
I have enjoyed having Luke in class for Economics this semester as well. He always asks me how I am doing at the start of class, and I feel like he really cares about my answer. Luke has sometimes interrupted me mid-sentence, which is how I know he is paying close attention to my lectures. He sometimes cracks jokes in my class, and I have to stop teaching just to laugh.

Luke is an amazing person who has taught me a lot this year as an educator and I am so glad he is being given this honor.

Rebecca Bjornson - I have only met Luke a few times over the years. However, I can wholeheartedly say, Luke is an absolutely wonderful person and a truly incredible performer. His full-time work with OSF's production of Hairspray while also attending high school full-time was beyond impressive. Luke worked as a professional actor, dancer, and singer and I look forward to seeing what great accomplishments unfold for him in his life after high school!

Alima Matejcek - A great memory for me is when Luke was in grade school in Rene Gardener's class. Luke loved reading circle! He brought so much joy and enthusiasm to our groups, and every time there was something wonderful that made Luke happy he would jump for joy in his chair! We soon realized that a friend or the teacher needed to sit close to Luke just in case he launched himself of his chair with the joy of the stories we read, and needed help getting reseated. It was a joy to be in the reading group with Luke. His peers used to be upset if they missed a week rotating through reading group with him.

Brooke Schauffler - Luke Laurenson is one of the most determined people I know. Luke sets his mind on a goal and he works hard to make it happen, whether it's a big goal like straight As on his report card throughout the entirety of his high school career or a small one like extending the winter so he can ski longer. I couldn't begin to tell you how many snow days he has manifested out of thin air this school year! Luke chooses to have a positive attitude whether things are going well or going poorly, even when he is tired or worried or busy. His infectious laughter and indomitable spirit light up the room wherever he goes. Luke is patient, driven, gracious, brave, fun, caring, and friendly. He shares about his life, and is interested in the lives of those around him. Watching Luke care about and check in on his friends and loved ones frequently, interact with students and staff alike at school, and participate in school leadership activities is inspiring! His commitment to both hard work and fun will make him successful in whatever adventures life has in store for him. Luke exudes confidence and joy, and I can't wait to see what lies ahead in his life.
Student of the Month for March:

The Student of the Month for March, introduced by Superintendant Samuel Bogdanove, is Amelie Duetz, class of 2023.
Amelie Duetz moved to Ashland from a German city when she was seven, forcing her to adapt to a new culture and way of life which has helped her discover one of her biggest passions: learning about, observing, and connecting with new people. Amelie came from Siskiyou School in the 9th grade. Currently, she serves as the Secretary of Ashland High School's Truth to Power Club and additionally enjoys interviewing and script writing as a founding member within the club. All throughout middle school and high school, Amelie has developed her musical skills and played flute in the AHS Symphonic Band and Wind Ensemble. Additionally, Amelie is a spirited member of the Ashland High School Equestrian Team and has been dedicated to practicing and competing as her and her team gear up for Amelie's last state competition.

In her free time, Amelie loves reading, going on adventures in nature, spending time with her friends and family, and volunteering for pressing issues in her community. Amelie is also passionate about traveling and looks forward to visiting her hometown in Germany in addition to researching other countries she would like to travel to in hopes of encountering diverse cultures and people. Amelie uses her passions for music, interpersonal connections, traveling, and the arts, along with her drive to support her community in hopes of bettering herself, her peers, and societies around the world.

She plans to study psychology and human development at Connecticut College, and is thinking about a service-oriented career.

Her teachers have a lot to say about her:

Shane Abrams - Amelie's diligence and perseverance have made her into an important member of our community. She is reliable and tremendously bright—congrats, Amelie!

Peter Bolling - Let's say that the world will end tomorrow if no one pushes a particular cosmic button at exactly midnight. One tenth of a second late or earlier and kaboom, it's all over. Who would you trust to get that job right? Who can always be counted on to never let you down? Well, I'd put Amelie Duetz in the chair with her finger on the button and sleep well. Amelie is a gem of a student who is equal parts intelligence, competence, reliability, and kindness. I know that many of you in this room have businesses. The smart move right now is to offer Amelie a job.

Quin Haldane - Amelie has been a pleasure to have in class. She is a high-achieving student who adds to a positive class environment.

Alec Slinkard - Amelie Duetz is a student who is driven, studious and knows how to advocate for herself. She has pushed herself to be the best student that she can be, which is evident in earning this recognition of student of the month. Amelie is truly special for her compassion and commitment to helping others. This is evident in the amount of time that she spends each week with her teammates on the equestrian team, mentoring them through teaching the foundational skills that they will need to find success. Amelie has shown great resilience and compassion over her academic career through facing each milestone that has affected her and the surrounding community with determination and compassion. Most notably she moved to America from Germany when she was seven, learning a new language and cultural norms. She continues to show up each day with a positive attitude and a desire for learning.

Rhiannon Batey - Amelie Duetz is an outstanding student in Spanish IV and excels in her ability to read, write, and speak in Spanish! Amelie is trilingual--A native German speaker who communicates competently in English and Spanish with grace. Amelie's trilingual abilities will take her far in life as she can communicate with so many more people in this world! She is engaging in each class period, works well with her peers, and asks the questions that others are afraid to ask. Not only are her academic abilities grand, but she is kind, gentle, compassionate, and humble. She is joyful presence—if she is absent, it is felt among the class. We are so proud of you, Amelie! Felicidades! Enhorabuena!
Student of the Month for February:



The Student of the Month for February, introduced by Superintendant Samuel Bogdanove, is Aliah John, class of 2023.

Aliah John is a senior at Ashland High School, where she is an editor for The Rogue News, writing, designing, and overseeing other staff members. She is also the president of Model United Nations, the treasurer of the Truth to Power club, and the PR representative for the National Honor Society.

Outside of school, Aliah works at a local jewelry store and spends her free time playing music, with her family, and outdoors. Originally born in a small town on the Oregon coast, Aliah and her family moved to the Ashland area before she started elementary school at the Siskiyou School, which she attended through 8th grade.

Aliah is deeply grateful for the community she grew up in and eager to see what awaits her in college and beyond.

Comments from some of her teachers include:
Marie Davol --> I have had the honor of having Aliah John in my class for the last two years. She is bright, motivated, and incredibly kind. She is a joy to have in class and I am so happy to hear that she is the SOTM. It was well-earned.

Shane Abrams --> Aliah's teachers and peers admire her grit and determination. She's reliably kind, creative, and effective!

Peter Bolling --> Imagine you are with a group of people working on solving a complex problem. Emotions are running high. Everyone has an opinion they are committed to. Not much progress is being made. Then, the person who has been quiet through the discussion pipes up and offers such a well-reasoned and practical response that most of the group nods their heads adan wonders, "Why didn't I think of that?" Well, that is a good description of Aliah's thinking process. She has been quiet, but an invaluable part of our discussions. Her thoughts are motivated by equal parts kindness and practicality. She should run for public office.

Jill Britt --> Aliah has such a clam and kind presence. I can see that people easily feel at ease being around her, and she brings kindness to every interaction. She is also thoughtful, intelligent, and hard-working.
Student Of The Month for January:
Logan Catz
Logan says his current plan is to study environmental science, but plans could change. He would also like to major in biology or math. He has applied to universities and is waiting for replies. But he is most likely to attend either Oregon State University or the University of Michigan.
Logan is cheerful and considerate, brightening up any environment he's in. His peers and teachers appreciate his energy, sense of humor, and reliability!
-Shane Abrams
Logan has the remarkable quality of affability. He is one of those students that others gather around. His quick wit and sense of humor have grown in proportion to his size, who was about 5'9 at the start of last year! (Logan is around 6'4 now. Or more.)
-Peter Bolling
Student Of The Month for December:
Sophia Cellini
Sophia plans to attend The University of Oregon to pursue a degree in the medical field, possibly kinesiology. She also plans on doing more non-profit work and travel abroad. This past year through the Ashland school district she was a member of peace club and was able to raise money to travel to Peru and assist with construction and renovation in an underfunded community. She plans on going to Portugal (with the peace club again) to do community development. She hopes to make many more volunteer trips in the years to come.
Sophia Cellini is a clear-eyed straight shooter. She does not hide where she stands on issues and you can always count on her being level-headed and fair. She is one of the more convincing students I have in a discussion when she decides to speak.
-Peter Bolling
Sophia is a driven and reliable person. She brings together talent, persistence, and respect in every context she enters!
-Shane Abrams
Coaching Sophia in middle school track I knew she was going to continue on as an incredible athlete and student. Her tenacity and work ethic in combination with her athletic abilities makes her a coach's dream. She is deserving of this award and I look forward to seeing what she does with her future.
-Christie Lawson
Rotary Club of Ashland's November Student of the month: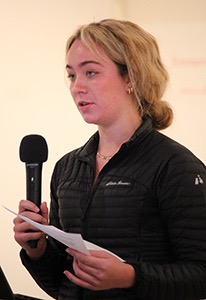 The Student of the Month for November is Julienne Adams.
Julienne Adams is in the class of 2023. Julienne says she learned to value small class sizes and relationships with her teachers in Waldorf school. She likes to run, dance, and cook. She would like to be a pediatric physician, or maybe a psychiatrist.
Teacher comments:

Shane Abrams: Julienne is a compassionate and uniquely motivated young person. Her persistence and drive set an example for us all to aspire to! She is invested in the well-being of her neighbors, her planet, and her classmates, and is certainly on to even more great things!

Erin Flynn AP ENVIRON: I am loving having Julienne in class and I welcome the chance to celebrate all she is and all she brings to our learning environment! I feel as though I have watched Julienne grow up in our small community so I was thrilled to have her sign up to take AP Environmental Science during her senior year. She thinks critically, asks relevant questions about what we are studying, offers insightful perspectives during class discussion and completes high quality lab work. Julienne is intelligent, empathetic, kind, and reflective. She has a calm and confident demeaner and wonderful peer relationships. She is finding the best in her world with a positive attitude and I know her positive outlook will serve her as she embarks on her own journey in the coming year.

Gretchen Kirkpatrick- ECON: Julienne Adams is a brilliant student. I often see her supporting her peers in the classroom. She is an excellent student who strives to do her best and to help others along the way.

Rhiannon Baley AP SPANISH: Julienne is a delight in AP Spanish Language and Culture class--she's polite and always prepared for class. Not only is Julienne a fluent Spanish speaker (from her adventures abroad and her Spanish classes), but she is always willing to help her classmates when they don't understand what's going on in class... Julienne always comes to class with a contagious smile and a positive attitude that is much appreciated.

Peter Bolling POLITICS AND LIT: Julienne is both a fine writer and a sharp thinker. While she has been reserved in many of our class discussions, when she speaks, she commands that attention of others. Julienne is a fine example of the principle that "the wise speak because they have something to say while the foolish speak because they have to say something." Julienne is a great asset to any class discussion.

Jesse Stonewood: I had Julienne in my chemistry class during the school closure. Her work was always top quality and she was a positive presence on Zoom even though my guess is that learning science on Zoom was not her favorite thing. Julienne is a kind and funny person who was always willing to help others. It was apparent from my interactions with her in class that she has earned the respect of her peers.
Michael Scholtes is editor of the Rotary Club of Ashland's newsletter, The Keyway.
Rotary Club of Ashland's October Student of the month
The Student of the Month for October, introduced by Superintendent Samuel Bogdanove, is Abbey Lambert.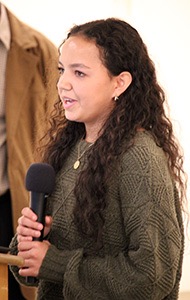 Abbey is a senior at Ashland High School. She has an unweighted GPA of 3.98 and a weighted GPA of 4.2.

Abbey earned the College Board's AP Scholar designation and received the College Board's National African American Recognition Award. She is the starting point guard for the Grizz Varsity basketball team, co-president of both the Black Student Union and the Spanish Honor Society, secretary of the Interact Club, and a student tutor. Abbey is also a member of the Math Honor Society, the National Honor Society, and was a student representative on the Ashland School District Equity, Diversity, and Inclusion Committee. Abbey is making her way through the college application process and hopes to study biomedical engineering after graduation. In her spare time, she enjoys going to the movies, listening to Taylor Swift, shooting hoops, and spending time with her dogs.
On her own behalf, Abbey says she is passionate about math and technology.
Teacher comments:
Shane Abrams says Abbey is a tremendous listener and empath. She treats everyone with kindness and dignity. Since beginning high school, she has been on a growth journey to become the self-possessed and empowered citizen she is now.

Gretchen Kirkpatrick writes Abby balances her determination to succeed with a reflection and openness. She has focused on achieving success on her applications for college and has produced impressive work. In addition to her school commitments, Abby builds up the AHS community through her club work.

Rhiannon Batey says Abbey is an outstanding student in AP Spanish Language and Culture. She seeks help when she needs it, offers help to her classmates who are struggling, and always brings her best self to class. She has a positive attitude that enables her to work well with everyone. She is reliable and speaks Spanish very well!
Marissa Watson: I have had the privilege of knowing Abbey for the last few years in a number of different avenues; Algebra 2H, AP Calculus, and as my TA. In every instance, she has been the most polite and respectful young woman with a smile and wave each and every time I see her. I have enjoyed our chats about Taylor Swift, Grey's Anatomy, the Bachelor, and all things Disney. She is truly a joy to be around and brightens my day with her happy uplifting spirit. Abbey has worked hard over the past few years to master her math concepts. When grading homework, I frequently go to her homework assignment to compare answers because her homework is a masterpiece. It is clearly written and organized, with color! The attention to detail she gives each assignment, is that to be marveled. Lastly, I would like to thank Abbey for everything she has done for me over the past few years. She was an exceptional TA and worked diligently on the tasks she was given, without complaint. Out of the kindness of her heart, she stayed after school one day to help me finish my work. It is that level of dedication that separates her from other students. She cares about her work and supports the people around her. Abbey is an exceptional young woman with the biggest heart.
Michael Scholtes is editor of the Rotary Club of Ashland's newsletter, The Keyway
Student of the Month for September 2022
At their meeting Thursday October 20, the Rotary Club of Ashland awarded the Rotary Student of the Month to Violet Hering, member of AHS class of 2023.
Violet is co-captain of the AHS cross-country team. She is the co-president of the AHS chapter of the National Honor Society and also the co-president of the Rotary Interact Club, where last year she organized the annual international fundraiser.
Throughout high school, Violet has worked for the Daniel Meyer pool as a lifeguard and swim instructor. She also worked at the Ashland Rotary Centennial Ice Rink, and she is the student manager of the AHS student tutor center.
Violet has played folk fiddle music since kindergarten. She enjoys spending her summers as a counselor at local Creekside Strings fiddle camps.
Violet is a National Merit Scholarship semifinalist, and she has applied to be considered as a finalist. She is an advanced math student and is currently taking Calculus III at Southern Oregon University. In college, she plans to study biochemistry and pursue a career in medicine and biochemical research.